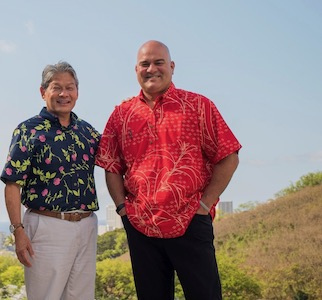 The Hawaiʻi Executive Collaborative was born from the 50+ year old Hawaiʻi Executive Conference when CEOs and top decision makers made a commitment to get personally involved in collaborative efforts that would build resilience for Hawaiʻi's people. HEC serves as a backbone organization to accelerate the impact of their collective leadership.

The Hawaiʻi Executive Conference, now a key program of HEC, started in 1963 as forum for top leadership to exchange ideas. Many of the original participants were executives of the Big Five companies in Hawaiʻi. By the time the conference was transferred to aio Foundation with Duane Kurisu as chairman in 2018, it reimagined its participants as change agents and expanded its membership beyond business executives to include leaders in government, labor, education, and the nonprofit sector.
HEC leaders believe in the importance of collective action, common data, and shared impact. The work that we do, and the way that we work, stem from fundamental beliefs that shape our priorities.
MISSION
We mobilize, support, and leverage the collective leadership of senior executives to accelerate the building of a more resilient Hawaiʻi.


GUIDED BY HAWAIIAN VALUES
In all that we do, we emphasize the guiding principles of:
Aloha au i Aloha
— I love Hawaiʻi

Auamo au i ke kuleana no ko
Hawaiʻi ke ala mua
— I am responsible for Hawaiʻi's future

ʻAʻohe hana nui ke alu ʻia
— No task is too big when done together by all
VISION
To honor and perpetuate Hawaiʻi's Soul and serve as a model globally.
OUR TEAM
HEC comprises local CEOs, senior decision-makers, and global leaders who work together on systemic issues and drive lasting change. The reach of HEC's leadership represents 36,000 employees across the state and over $220 million in philanthropic dollars invested in the community.


BOARD OF DIRECTORS
Duane Kurisu
Chairman, Hawaiʻi Executive Collaborative; Founder, aio Group

Micah Kāne
CEO and President, Hawaiʻi Community Foundation

John Dean
Chairman Emeritus, Central Pacific Financial Corp.

Ann Teranishi
President and CEO, American Savings Bank

Ray Vara
CEO, Hawaiʻi Pacific Health
LEADERSHIP COMMITTEE
Kamana'opono Crabbe
Community Leader

Terrance George
President and CEO, Harold K.L. Castle Foundation

Robert Harrison
Chairman, President, and CEO, First Hawaiian Bank

Peter Ho
Chairman, President, and CEO, Bank of Hawaii
Corbett Kalama
Executive Vice President, The Harry and Jeanette Weinberg Foundation

Colbert Matsumoto
Chairman, Tradewind Capital Group, Inc. and Island Insurance Co., Ltd.

Elliot Mills
Vice President, Disneyland Resort Hotels and Aulani, a Disney Resort & Spa

Catherine Ngo
Executive Vice Chair, Central Pacific Bank
Robert Nobriga
President, Island Holdings, Inc.

Richard Wacker
Community Leader


Jack Wong
President and CEO, Kamehameha Schools

Paul Yonamine
Chairman and CEO, Central Pacific Financial Corp. and Executive Chairman, Central Pacific Bank


STAFF
Lynelle Marble
Executive Director

Kimberly Vierra
Director of Communications & Programs


ADVISORS AND DIRECTORS
Judge Michael Broderick
Dispute Resolution Hawaiʻi; HEC Advisor

Glenn Miyataki
HEC Advisor

Leilani Farinas
Director, TRUE

Nicole Lim
Director, Movers and Shakas